Estampaciones Mayo has been making components for major automotive sector firms and original equipment manufacturers for 60 years.
Over these 60 years, we have grown and evolved alongside our customers, adapting our know-how and technology to meet their needs. Specialization, differentiation and dedication are key to continuing to turn our customers' ideas into parts.
Estampaciones Mayo currently has a workforce of 120 workers and continues to work on continuous improvement and innovation, with the incorporation of the latest technology in order to meet the requirements of its customers, first-rate automotive sector manufacturers and suppliers.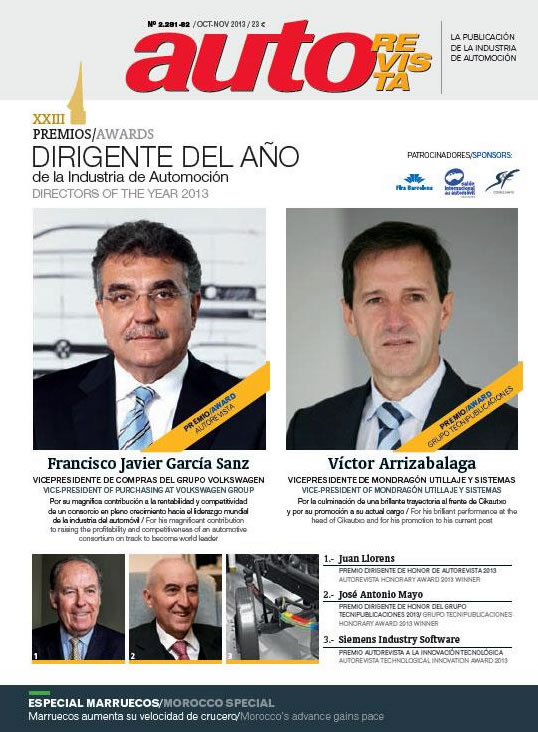 José Antonio Mayo, Grupo TecniPublicaciones Executive of Honour 2013.
Recognition
José Antonio Mayo, founder of Estampaciones Mayo, has been recognized in the XXIII Automotive Industry Executive of the Year Awards in the Grupo TecniPublicaciones Executive of Honour Category 2013.
The prize-giving ceremony for the Automotive Industry Awards was held in Barcelona on the 20th of November and Francisco Javier García Sanz, the Volkswagen Group's Vice-President of Procurement, who received the 2013 AutoRevista Executive of the Year Award; Víctor Arrizabalaga, Vice-Chairman of Mondragón Utillaje y Sistemas, awarded the Grupo TecniPublicaciones Executive of the Year Prize, and Juan Llorens, who received, like José Antonio, an award as Executive of Honour, were all recognized alongside José Antonio Mayo.